'The War Is Coming To Russia': Ukraine President Zelensky Roars After Drone Attacks On Moscow
Ukraine's President Volodymyr Zelensky has warned war is coming back to Russia after a drone attack on the capital Moscow.
Mr. Zelensky said attacks on Russian territory were an "inevitable, natural, and absolutely fair process" of the war between the two countries.
Russia's defense ministry said three Ukrainian drones were downed on Sunday, with two crashing into offices.
Vnukovo Airport, southwest of the city center, was also briefly shut.
The drone attack in the early hours of Sunday is the latest that Moscow has blamed on Kyiv.
And in a video address on Sunday from the western Ukrainian city of Ivano-Frankivsk, Mr. Zelensky said that Ukraine was getting stronger.
"Today is the 522nd day of the so-called 'Special Military Operation', which the Russian leadership thought would last a couple of weeks," he said.
"Gradually, the war is returning to the territory of Russia – to its symbolic centers and military bases, and this is an inevitable, natural, and absolutely fair process."
This characterization is certainly a level up from Kyiv's normal approach of not admitting responsibility for attacks inside Russia.
It may be far from a confession, but President Zelensky clearly feels confident enough to pile on the pressure, and not just on the Kremlin.
Drone attacks like these are also an opportunity for him to address the Russian population, the majority of whom appear to believe Moscow's invasion is just and righteous.
If they connect explosions close to home with what's going on in Ukraine, as per Mr. Zelensky's suggestion, it makes it a bit harder for Vladimir Putin to justify his invasion, which he is only looking to expand.
Former Russian President Dmitry Medvedev said on Sunday that Moscow would have to use a nuclear weapon if Kyiv's ongoing counter-offensive was a success.
Mr Medvedev, who is deputy chairman of Russia's Security Council – a body chaired by Mr Putin – said on social media there would be "no other option" if Ukraine took what he described as "our land".
Officials said there were no injuries following Saturday's drone attack, and the city's mayor Sergei Sobyanin said the facades of two office buildings were slightly damaged.
Photos from the scene show that several windows have been damaged at the corner of the buildings, with debris scattered on the ground below.
One eyewitness, who only gave her first name as Liya, told Reuters news agency she could see fire and smoke.
"We heard an explosion and it was like a wave, everyone jumped," she said.
"Then there was a lot of smoke and you couldn't see anything. From above, you could see fire."
Flights were briefly suspended from Vnukovo Airport, southwest of the city centre, and incoming planes were redirected to other airports.
In a statement, the defense ministry said the "attempted terrorist attack" had been "thwarted".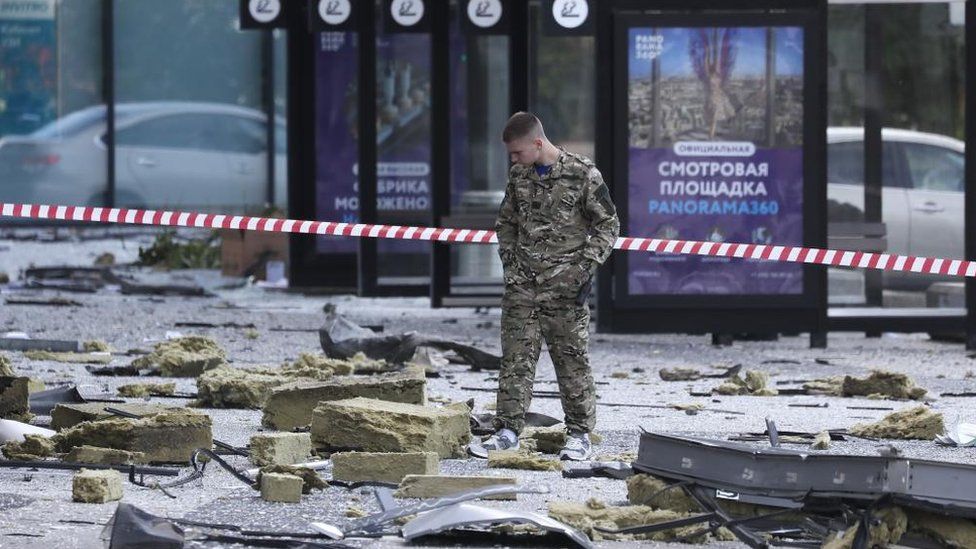 Moscow, located about 500km (310 miles) from the Ukrainian border, has rarely been targeted since Russia launched its full-scale invasion of Ukraine in February 2022.
But Russia has accused Ukraine of launching a series of drone strikes on its territory in recent months, including several on the capital.
The most notable was in May when Russia claimed Ukraine used two drones to attack the Kremlin – the heart of the city. Ukraine denied attacking the Kremlin or targeting President Vladimir Putin.
Russia's defense ministry says Ukraine also carried out an overnight drone attack on Crimea – territory which was annexed by Russia in 2014. Officials say 16 drones were destroyed and a further nine were suppressed, Tass news agency reports.
Meanwhile, Ukrainian officials say a Russian missile attack on the city of Sumy, in the northeast of the country, has left one person dead and five injured.
A building was destroyed in an explosion at about 20:00 local time (17:00 GMT), according to public broadcaster Suspilne.
Officials also say two people were killed in the southern city of Zaporizhzhia on Saturday.