Presidential Candidate Shot Dead During Campaign Rally
A candidate in Ecuador's forthcoming presidential election has been shot dead at a campaign rally.
Fernando Villavicencio, a member of the country's national assembly, was attacked as he left the event in the northern city of Quito on Wednesday.
A member of his campaign team told local media Mr Villavicencio was getting into a car when a man stepped forward and shot him in the head.
Current president Guillermo Lasso vowed the "crime will not go unpunished".
Witnesses said Mr Villavicencio, 59, was shot three times.
The suspect was also shot in an exchange of bullets with security and later died from his injuries, the country's attorney general said on social media.
They added that nine people suffered injuries, including a candidate for assembly and two police officers.
The first round of the presidential election is scheduled to take place on 20 August.
Mr Lasso, who will not be on the ballot, said he was "outraged and shocked" by the killing, adding: "Organised crime has come a long way, but the full weight of the law is going to fall on them."
A recent rise in violent crime, fuelled by the growing presence of drug cartels in Ecuador, has been a central issue in this year's presidential campaign.
Last month, Mr Lasso declared states of emergency and night curfews in three provinces following a number of killings linked to organised crime.
As well as security, Mr Villavicencio's campaign had focused on tackling corruption, a topic he had covered in an earlier career as a journalist, and reducing environmental destruction.
Last week, he said he and his team had been threatened by the leader of a gang linked to drug trafficking.
Mr Villavicencio, who was married and had five children, was one of eight candidates in the first round of the election, although not the frontrunner.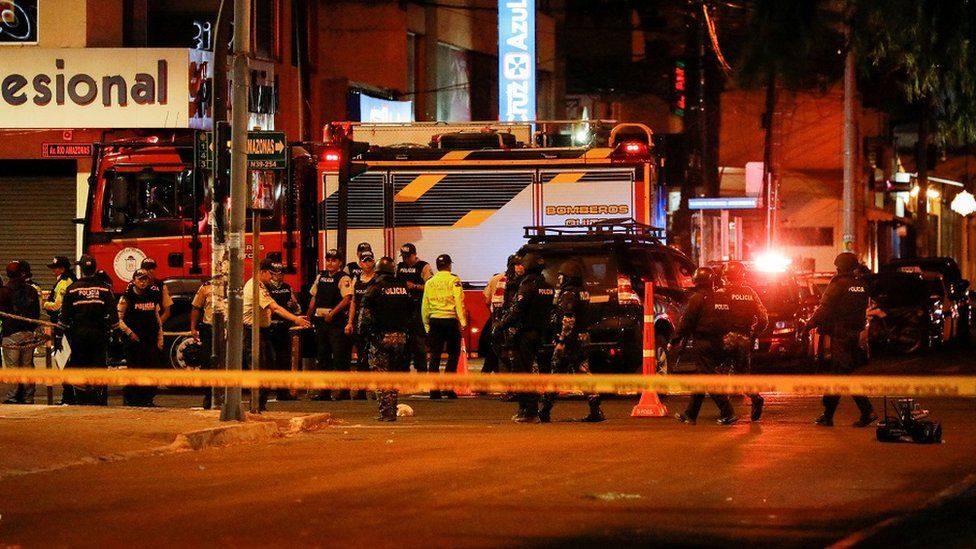 His killing follows that of Agustín Intriago, mayor of the city of Manta, in July and Omar Menéndez, candidate for mayor in the city of Puerto López, in February.
Paying tribute, Mr Villavicencio's party, Movimiento Construye, shared a comment he posted to social media in response to calls to suspend the presidential campaign following Mr Intriago's death.
"Hiding in moments when criminals assassinate citizens and officials is an act of cowardice," he wrote.
Former vice president and fellow candidate Otto Sonnenholzner sent his "deepest condolences and deep solidarity" to Mr Villavicencio's family.
"May God keep him in his glory," he wrote. "Our country has gotten out of hand."
Frontrunner Luisa Gonzales also shared her "solidarity" to Mr Villavicencio's family, adding: "This vile act will not go unpunished."