President Yoweri Museveni on Wednesday evening arrived in the Russian port city of Saint Petersburg to attend the Second Russia-African summit that will run from the 27th-28th of July 2023.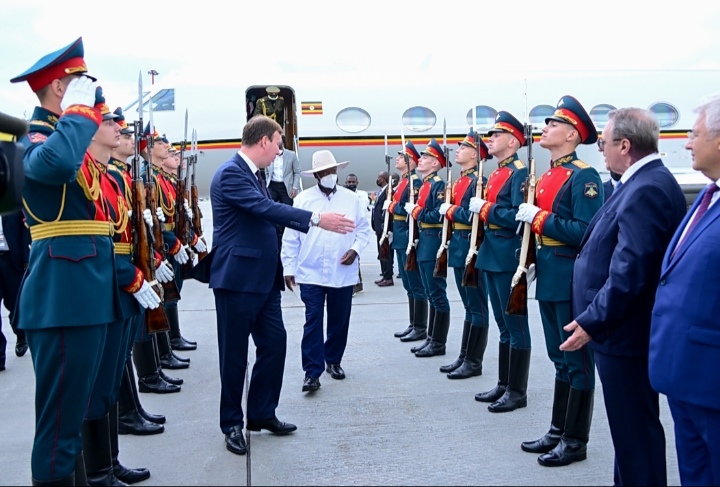 The President arrived at Pulkovo International Airport in the city of Saint Petersburg and was received by the Russian Federation Deputy Minister of Foreign Affairs Mr. Bogdan Mikhail Lleonidovich and many other senior government officials from the Russian Federation.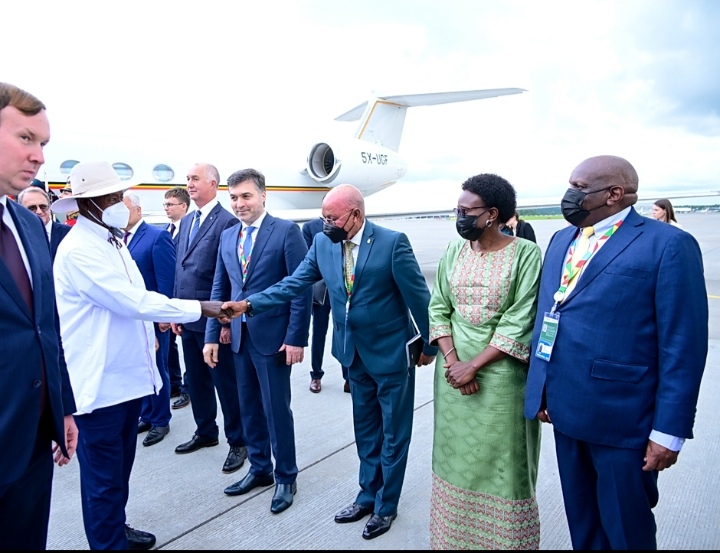 The Russia-Africa summit will be attended by heads of state and governments from Africa as well as representatives of the vast majority of the African countries and the majority of the socio-economic and political players on the continent.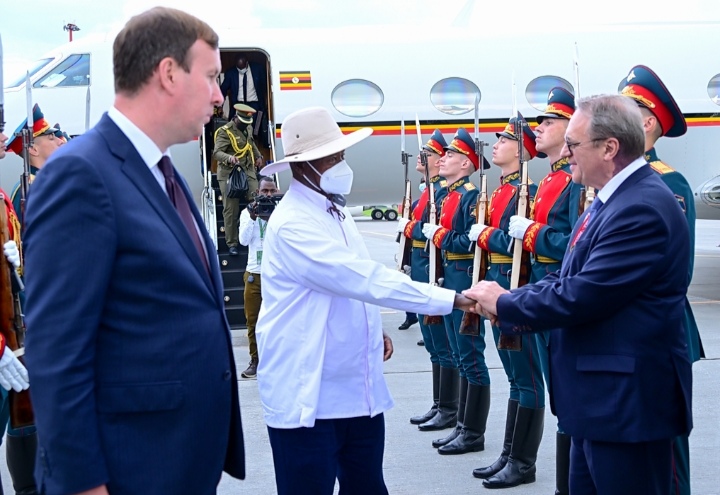 During his stay in Russia President Museveni will hold bilateral discussions with his counterpart President Vladimir Putin on matters of mutual interest between Uganda and the Russian Federation.
President Museveni was accompanied to Russia by a high-powered delegation that include ministers, members of parliament as well as several senior government officials.
The Kremlin said that 49 African countries have confirmed their participation in the summit.
The end of a deal that has allowed Ukrainian grain exports through the Black Sea to global markets, including Africa, is set to dominate the agenda.
Putin is expected to make a "big statement" at the summit that will address the issue of food and fertilizers, Kremlin foreign policy advisor Yuri Ushakov said in comments carried by Russian news agencies.
"The main attention will be paid to the prospects for the further development of relations between Africa and Russia with an emphasis on our assistance to the national sovereign development of Africans, ensuring fair access to food, fertilizers, modern technologies and energy resources," Ushakov said.
The previous summit, in 2019, led to the signing of 92 agreements, contracts and memoranda of understanding worth over $11 billion. Several African countries (Nigeria, for example) have benefited from these agreements, especially in areas of energy generation and education.
This time, many countries on the continent are facing a cost of living crisis. But how likely are they to get help from Russia? Its invasion of Ukraine has led to sharp increases in fertiliser and grain prices, pushing up food prices and raising food insecurity on the continent.
The second complication in the engagement is the controversial role of the Wagner group in several African countries. The third is that the state of Russia's economy limits President Vladimir Putin's ability to offer Africa any meaningful economic assistance.
And African countries are not likely to reap benefits if they fail to negotiate as a block.
A critical look at the previous summits between African countries and China, the US and Japan reveals the fragmentation in African countries' negotiations. National interests tend to overshadow collective interests, and this reduces their negotiating power.
The continent has not been able to assert its agency.
The 2023 summit is attracting attention because of the posture of several African countries in relation to the war in Ukraine. About half of African countries have either been "neutral" or supported Russia's action.
Russia's weakened position in world politics offers a rare chance for African countries to express their agency. Despite security and economic challenges, the continent's potential remains unchanged and this explains the renewed "clamour for Africa".
The renewed interest in establishing or redefining relationships with African countries, as seen in other summits, shows how important Africa is in world politics. African leaders must take advantage of that.
What Africa must achieve
Here are five things Africa must achieve at the second Russia-Africa summit.
First, African countries must speak with one voice. African countries are at different stages of development and therefore have diverse needs. Taking a clear position on issues that affect the entire continent will be more productive.
Second, security is an issue that is of paramount interest to Africa. African countries must agree on an alternative security arrangement with Russia which does not include private military contractors.
Several African countries have been apprehensive about the Wagner group. Ghana has been the most vocal. The group has been accused of gross human right violations.
While some African countries rely on Russia to provide weapons to fight insurgencies in their countries, it is important to cut out private military contractors and deal directly with Russia.
Third, the ongoing war between Russia and Ukraine has had a disproportionate impact on African countries through food prices. Several African countries depend on Russia and Ukraine for grains and fertilisers.
Although Turkey was able to secure a deal with Russia in 2022 to supply grains to Africa, Russia has refused to renew the deal. This poses serious threats to African countries.
The leaders of African countries understand the impact of food security on political stability. This issue must take priority at the summit. African countries need grains and fertiliser, and Russia is desperate not to lose its African allies. Securing a new deal should be on the table in St Petersburg.
Fourth, although it has been reported that the volume of trade between Russia and Africa has increased in the last few years, it remains lopsided. Many African countries have remained importers of Russian products rather than exporters. They should negotiate for a programme that will allow them to increase their volume of exports to Russia – something like the Africa Growth and Opportunity Act which allowed countries in sub-Saharan Africa to export products to the US tariff-free.
Finally, African countries at the summit must seek specific measures to reduce the impact of the war on their nations. A delegation of African countries earlier in the year failed to convince Russia and Ukraine to end the conflict. But they must secure a commitment to reduce the impact of the war on the continent.
They might find it difficult to secure much aid from Russia but should push for the transfer of technology that will help them to be self-sufficient and above all the leaders must speak with one voice.