By Uganda Online
Kampala: The National Council of Higher Education (NCHE) has approved Victoria University's Charter Status that allows it to offer and award Masters and Doctorate programs.
In a letter dated December 15th addressed to the Vice-Chancellor Victoria University, the NCHE Deputy Executive Director, Rev Canon Alex M. Kagume confirmed the board's decision to grant Victoria University a charter following the continuous progress and remarkable roles the university has played not only in Uganda but across Africa especially during the Covid-19 pandemic.
"This is to inform you that Council during its 63rd Meeting held on 13, December 2021, considered and resolved to recommend to the Minister the grant of a Charter to Victoria University in accordance with Section 101(3) b of the Universities and Other Tertiary Institutions Act 2001, as amended.," the letter reads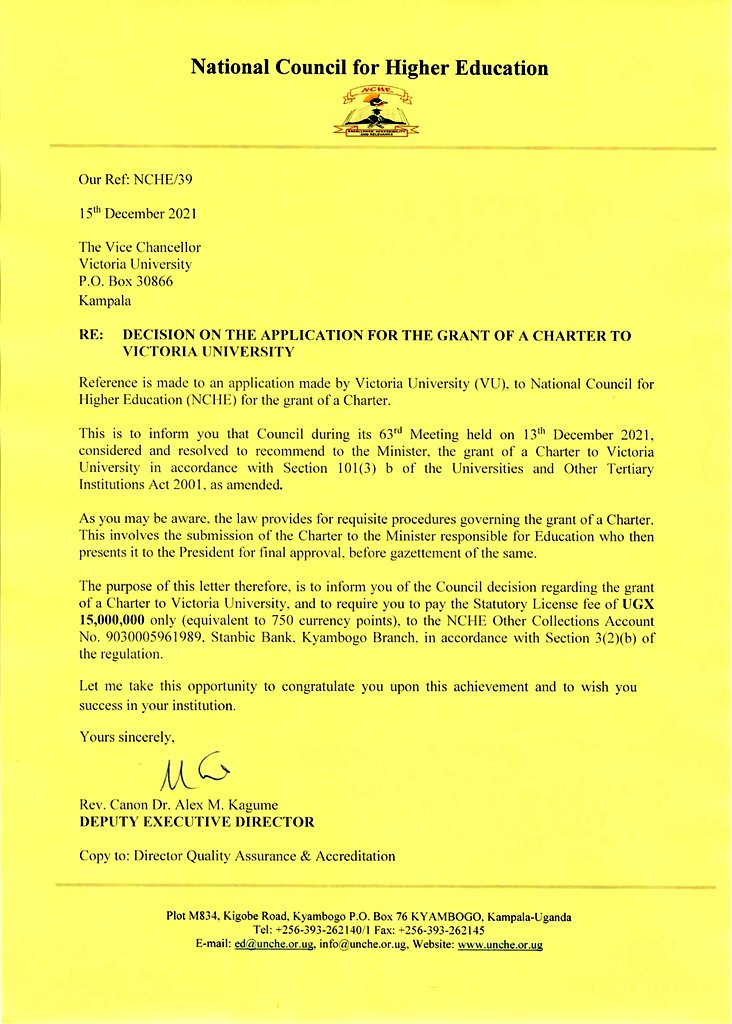 This means that after the final approval by the President, Victoria University will be awarding Masters and Doctorate Programs alongside its undergraduate programs currently being offered.
"As you may be aware, the law provides for requisite procedures governing the grant of a Charter. This involves the submission of the Charter to the Minister responsible for Education who then presents it to the President for final approval, before gazettement of the same," the letter adds.
As a requirement, therefore, Victoria University shall be required to pay the Statutory License fee of UGX 15,000,000 only (equivalent to 750 currency points) regarding the granting of the Charter as per Section 3(2)(b) of the regulation."
With a charter, Victoria University joins a list of higher institutions of learning in the country recognized by the Ministry of Education and the NCHE as equal to public universities
Victoria University is one of the leading universities in Uganda and stands out as a center for academic excellence. It offers a fresh and intellectually stimulating environment that nurtures critical thinkers.
The University was opened in August 2013 and has the capacity, facilities and determination to revitalize higher education in Uganda and in the region.
The University is committed to playing a leading role in bringing and developing high-quality education, student-centered learning opportunities based in standards of excellence that are unique, innovative and difficult to match.
Accredited by the National Council for Higher Education with a wide range of nationalities VictoriaUniversity is located in the heart of Kampala City convenient for learners from different parts of the world.
Victoria University is part of the Ruparelia Group of Companies, which has a strong presence in the education sector in Uganda and has under its portfolio, Kampala Parents School and Delhi Public School International.